Introducing the NIJ IIIA Clear Backpack, perfect for public events that require see-through bags. As schools, concerts, sporting events, and more adapt to new safety measures, our Clear Backpack ensures you stay ahead of the curve.
Equipped with a lightweight, removable level NIJ IIIA ballistic insert made 100% in the United States, this backpack provides an added layer of protection. The transparent design allows you to easily navigate security checkpoints without unzipping pockets or removing items, making it perfect for school, festivals, and other events.
Our ballistic items are allowed in listed venues and are metal detector/airport friendly.
Features and Benefits:
Ballistic insert weighs only 20 oz. (similar to a water bottle).
Ideal for school, festivals, sporting events, and more.
Transparent material for seamless security checks.
No need to unzip pockets or remove items.
Durable, lightweight PVC material for easy cleaning.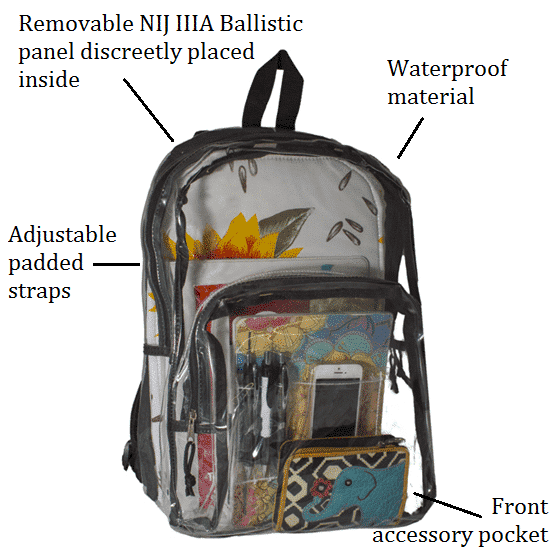 Ballistics:
Ballistics proudly 100% made in the United States of America.
Removable Kevlar® panel for easy cleaning and maintenance.
Constructed with the latest DuPont™ Kevlar® technologies.
Tested to NIJ IIIA standards, stopping a 357 Magnum, 44 Magnum, 9mm, and .45 caliber hollow point ammunition, among others.
Panel: Removable.
Specifications:
Capacity: 2750 cu. in., 45 liters.
Panel weight: 20 oz. (567 grams).
Combined weight of bag and panel: 4.5 lbs. (2 kg).
Dimensions: 17.5″H x 12.5″W x 5.5″.
Capacity: 20L (1200 cu in).