Introducing Bullet Blocker's latest youth backpack, the Sprout, specifically designed for elementary-aged students who require a sturdy and functional pack for carrying their belongings to and from school. Equipped with the same lightweight, semi-flexible NIJ IIIA ballistic panel found in all our products, the Sprout discreetly enhances your child's safety both at school and on the go. Its numerous pockets and compartments ensure school supplies and personal items remain secure throughout the day.
Features and Benefits:
Water-resistant fabric for added durability.
Multi-compartment design for easy organization.
The See-through zippered pocket accommodates notes and accessories.
Organizer featuring multiple pockets for added storage.
Mesh pocket for beverages.
Comfortable padded shoulder straps and back panel.
Air mesh padded grab handle for easy carrying.
Internal identification tag for personalization.
Color Options: Aqua, Grey, Rose.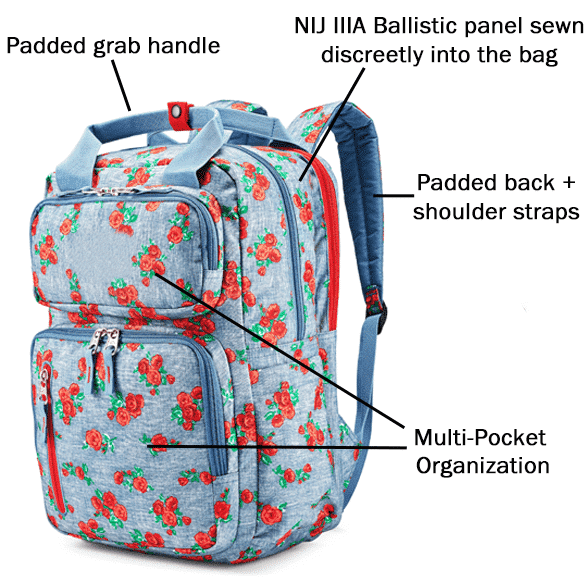 Ballistics:
Proudly 100% made in the United States of America.
Constructed using the latest DuPont™ Kevlar® technologies.
Tested to NIJ IIIA standards, stopping a 357 Magnum, 44 Magnum, 9mm, and .45 caliber hollow point ammunition, among others.
Panel: Securely sewn in (tacked in the main compartment).
Specifications:
Panel weight: 20 oz. (567 grams).
The combined weight of the bag and panel: is 1.5 lbs. (0.54 kg).
Dimensions: 17″ x 11″ x 6.3″.
Fabric type: 900-Denier Polyester.
Capacity: 24L / 1465 cu in.
Testimonials:
"I might be paranoid, but having a little extra protection gives me more peace of mind." – Mike