Introducing our NIJ IIIA Canvas Classic Pack, a sleek, ultralight backpack designed for daily use with style and practicality in mind. This versatile backpack is perfectly sized for teenagers as a school bag, or for adults as a daypack. Equipped with the same lightweight, semi-flexible NIJ IIIA ballistic panel used in all our products, this pack ensures your safety wherever your journey leads you.
Features and Benefits:
The ballistic panel weighs a mere 20 oz. (comparable to a water bottle).
Adjustable, cushioned straps for added comfort.
Padding covers the rear ⅔ of the back panel.
The spacious main compartment accommodates larger items, such as textbooks or laptops.
Front pocket functions as an organizer and utility pocket.
Handy grab handle for easy carrying.
Available in four appealing colors: Red, Muted Green, Tie Dye, and Black.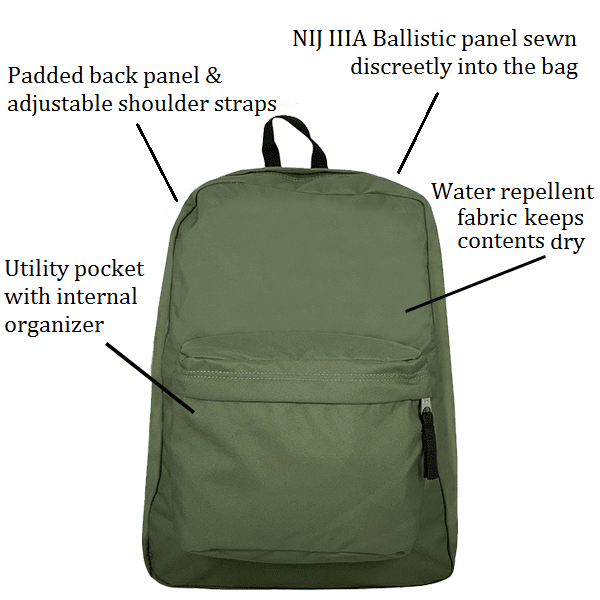 Ballistics:
Proudly 100% made in the United States of America.
Constructed using the latest DuPont™ Kevlar® technologies.
Tested to NIJ IIIA standards, stopping a 357 Magnum, 44 Magnum, 9mm, and .45 caliber hollow point ammunition, among others.
Panel: Securely sewn in (tacked in the main compartment).
Specifications:
Panel weight: 20 oz. (567 grams).
The combined weight of the bag and panel: is 1.3 lbs. (0.6 kg).
Dimensions: 16.7″ x 13″ x 8.5″.
Fabric type: 600-Denier Polyester.
Capacity: 25L (1550 cu in).
Testimonials:
"I bought the Bullet Blocker backpack for my grandson who is now in junior high. He really liked the camo one. While we hope it's never needed, we feel more reassured having purchased it." -Shay
"I acquired two JanSport Bullet Blocker backpacks for my grandchildren. I hope they never have to use them, but they may make a difference if they do." – Smith
"I initially ordered a backpack for my son, but it was too big. Donna was very helpful with the return, and I was so pleased that I ordered two JanSport backpacks for both of my sons. They're a perfect size and of excellent quality. I'm very happy with my purchase and feel more at ease when my sons go to school." -EJ
"Beautiful backpack, excellent quality work, and completely inconspicuous. I'm very happy. Thank you." -Miguel