Bulletproof Backpacks
The Self Defense Company has perfected the art of armor concealment with its new line of Bodyguard Bulletproof Backpacks for both civilians and government employees.

They feature their patented "Switchblade Deployment System" (SDS) that converts into a bulletproof vest in a second giving you instant front and back protection.

All backpacks are TSA approved and legal in all 50 states.

Why Are So Many People Adding a Bulletproof Backpack to Their Arsenal?
According to Bodyguard inventor Damian Ross, "We wanted to give people the best of both worlds – a fully functioning backpack that they can use every day with the protection of the leading bulletproof tactical vests…and I think we did just that."
Having a Bodyguard with you at all times gives you a little peace of mind and since its release this fall, they've been hard to keep on the shelves.
Like Ross says, "The Bodyguard is like insurance, it's better to have it and not need it than to need it and not have it."
Bodyguard customers range from people commuting to work or traveling to parents of college and high school students. "We even see a number of teachers and law enforcement officers pay out of pocket for the Bodyguard."
With gun violence and active shooters grabbing the headlines on a daily basis – it's no wonder the demand for this life-saving invention is growing rapidly.
"Imagine if there was a Bodyguard in every classroom and office, imagine if the students and teachers who stepped up to stop active shooters had a little more or even some protection – who knows how many lives could have been saved."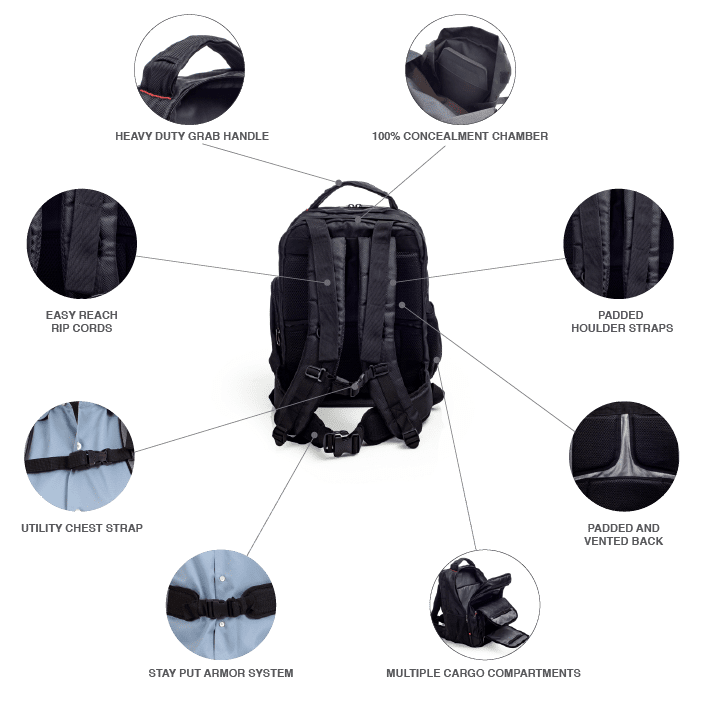 The Bodyguard comes in two styles – The First Responder, the ultimate GO BAG, that can be put on at a moment's notice, and The Switchblade, the perfect blend of practical and tactical for everyday use.
Both styles are available in 3 options.
Option 1 – Backpack Only, allowing you to add your own armor
Option 2 – Level 3A kit that stops all handguns
Option 3 – Level 3 kit that stops rifles including 5.56 from AR15 and 7.62 from AK47

It can also accommodate most existing armor plates.
Don't make the fatal mistake and assume that YOU are the only one that carries a weapon.
Bad guys shoot too.

With a Bodyguard Backpack, you can be protected and ready for anything.

For a limited time, you can get any Bodyguard for over 30% off.
For details please visit Bulletproof Backpacks